Get The Simulation Tool That Works Right Out Of The Box, No Coding Needed. Learn More About Simio.
Simulation doesn't need to be a complicated procedure. Simio uses simple drag and drop design to quickly and easily get you started on the optimization process, without needing specialized skills.
Simio simulation software:
Is simple to use
Includes powerful reporting tools
Uses drag and drop design - no coding needed
Includes crisp, high-quality animations
Provides ability to extend models to support production scheduling

Simio Simulation Software
Simio is a unique multi-paradigm modeling tool that combines the simplicity of drag and drop objects with the flexibility of predesigned processes to provide a rapid modeling capability without requiring programming.
Simio can be used to predict and improve the performance of dynamic, complex systems in healthcare, military, airports, manufacturing, supply chain, ports, mining, lean-six-sigma, and other disciplines.
Simio Training
MOSIMTEC's experienced team offers comprehensive training designed to help you get started with simulation modeling and developing advanced skills. We bring real-world lessons learned from our consulting engagements to help you build knowledge from the ground up. We share best practices, identify pitfalls, and help clients fast-track solutions for their areas of focus.
---
MOSIMTEC is the official Simio® training provider for North America and provides regular multi-day Simio standard training and also standard or customized on-site Simio® tutorials and training.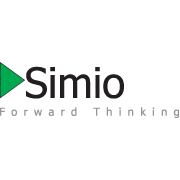 Simio Product Matrix
Identify the version that meets your requirements
| Features/Applications | Personal Edition | Design Edition | Team Edition | Enterprise Edition |
| --- | --- | --- | --- | --- |
| Unlimited model size (limited only by your computer resources). | | | | |
| Advanced 3D modeling/animation with built-in interface to the expansive Google Warehouse graphics library. | | | | |
| Rapid modeling of complex workflows using the Standard Object Library. | | | | |
| Advanced material handling including accumulating/fixed conveyors and on-demand/fixed route vehicles. | | | | |
| Flexible resource modeling including moveable workers, dynamic selection rules, and flexible work schedules. | | | | |
| User-defined relational data tables for interfacing to enterprise data. | | | | |
| Support for 3rd party add-ins such as optimization (OptQuest). | | | | |
| Advanced experimentation, analysis, and reporting features for defining scenarios and interpreting results. | | | | |
| Serve as Full Runtime software for models created in Design or Team Edition. | | | | |
| View custom dashboard results created by others. | | | | |
| Share the software between multiple users via a floating license. (Option) | | | | |
| Graphically create processes for unlimited modeling of complex modeling situations. | | | | |
| Combine objects and processes within a model to customize object behavior. | | | | |
| Create and use custom object libraries for specific application areas. | | | | |
| Create models for use with Interactive Runtime using the free evaluation version of Simio. | | | | |
| Create custom dashboard reports for others to use. | | | | |
| Distribute scenarios and replications across other computers in your workgroup. | | | | |
| States in tables support incorporation of output data into tables. | | | | |
| Resource and Entity Gantt charts to graphically illustrate resource usage and constraints over time. | | | | |
| User-definable Targets with both deterministic (plan) and stochastic (risk) analysis. | | | | |
| A Constraint Log which aids in identifying bottlenecks and determining how best to improve a facilityŐs operation. | | | | |
| Works with Simio Scheduling Edition for deployment of a customized tool for schedulers. | | | | |
| Supplement standard reports like Resource Dispatch with custom dashboard reports on planning data | | | | |
Videos
View videos of models developed by MOSIMTEC using Simio Simulation Software
Simio Simulation Software